... Ambrose Bierce was born on June 24, 1842 in Horse Cave Creek, Ohio; son of Marcus Aurelius and Laura Sherwood Bierce. He was the youngest of a large brood of children, whom Marcus, for reasons unknown, anointed with names beginning with A.
This easy to navigate ebook contains a biography and bibliography of Ambrose G. Bierce and his fables, stories and poems.
In the review written by the 3d2f team:
...And now E-dition proposes you to study the life and thoughts of this very unusual person and writer. There is an «Ambrose G. Bierce Selected Works» e-book, which presents old textual media «read it page by page» as «study it».
Visit 3d2f and read more.
You can set three bookmarks and jump directly to the places you were at your last reading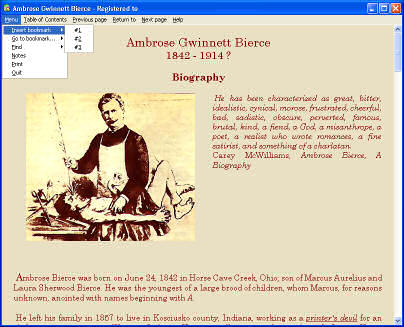 You can take notes from within the ebook with our integrated notepad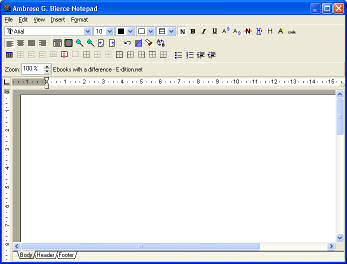 You can jump to stories, dictionary, poems with this table of contents.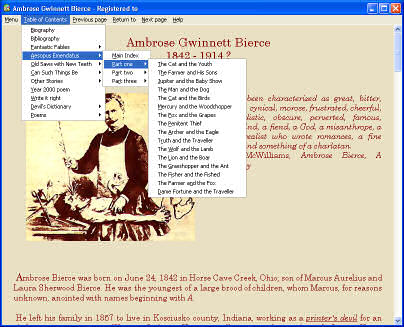 Most of the stories above are hyperlinked, as much as possible, to the Devil's Dictionary. This feature provides a quick look at the meaning of a word according to Bierce. You can Find the whole ebook for a word or a sentence. Although we have a philosophy of saving paper, this ebook can print each page.
© 1998-2009