This book is for collectors, practitioners, teachers and students in need of a technical treatment of clays and glazes in terms of their raw materials - earths, rocks, minerals, oxides, and elements - which is thorough and yet very easy to use. Materials are listed by alphabetized titling; data are thoroughly cross-referenced; special attentions are drawn to varieties of usage in terminologies and emphases throughout are on natural versus man-made origins by way of understanding nomenclatures. Appendixes address the very technical aspects of manufacturing clays and glazes. Easy navigation, search function, print articles, lexicon,web browser, periodic table and personal notes editor. A utilitarian attempt to present data on those materials and techniques most commonly used and most commonly known in a most orderly fashion.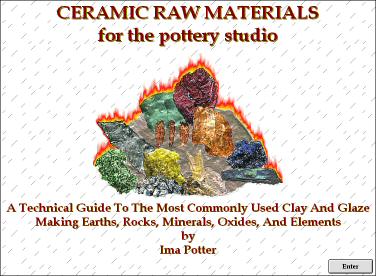 Comment from Gilles GEIRNAERT de Passion Céramique, Limoges, France
En ce qui concerne l'ouvrage, il est intéressant, bien illustré...
il ressemble un peu à ce celui de A.J-P van LITH "Céramique:dictionnaire encyclopédique"
For example, under ALBITE, the reader will find the chemical composition, information about hardness and solubility a complete description of its uses and sources.
Each page has a drop-down list of the entries for that page to quickly jump to the item that interests you the most.
Comment from M. Boucher, Quebec, Canada:
I was surprised, I expected a student(beginner) textbook with techniques. The book is very technical and goes straight to the heart of the subject. It should target the experimented ceramists who wants to go deeper into the different techniques/materials and as such contains the necessary data to do so. For beginners, I think the Ceramic Wares is a nicer and more basic intro.
Easy to use menu, lexicon, alphebetical index, personal notes editor, search engine (per page or whole ebook), a periodic table, integrated web browser make this fully illustrated (over 150 pictures) ebook a complete tool for the student or the pro.
About Ima Potter: Beginning in 1956, Ima Potter took as many courses in ceramics as majoring in chemistry while a student at, then, San Jose State College would permit. Studies and years led to a doctorate in philosophy and university teaching posts in philosophy, and to further courses and workshops in ceramics as both student and teacher. He is now a semi-retired philosopher living just outside a small village on the island of Mallorca, Spain, doing more ceramics than ever.
As a once upon a time Californian, Ima Potter feels right at home in Mallorca, the principal source of California's early European colonial ambiances, He appreciates his proximity to ongoing traditions in the Mediterranean area, the birthplace of Occidental philosophy and ceramics.
As a ceramicist, in particular, he relates,
For the most part, I work with local raw materials in sun-baked and open-fire cookings. For higher temperature firings I use finely prepared earthenware and stoneware from suppliers of mainland clays, such as those mined around and about Valencia, as traditional to the ceramics of Manises and Paterna, among others. My low-fire works have the aspects of Mallorcan pre-historic earthenwares in fabric and of Californian neo-raku wares in finish. My higher-fire works further this in the direction of celadon.
© 1998-2009