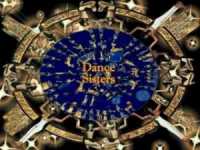 Dance Sisters by Alan Clay
It's about how we put together what's real and what isn't Alan Clay
Watch how an emotionally exhausted woman is drawn into a cult through astrological interpretation of her life and reality. Dream machines, therapy session, astrological interpretation mixed with modern technology slowly dissolve the real world into an other one, shaped and ruled by the cult leader. Will her two closest friends and partners be able to pull her out or will they be drawn into the cult.

Welcome to

!

We publish electronic books, better known as ebooks, for Microsoft Windows 9.x/NT. We are dedicated to the electronic medium and we do not encourage the waste of paper and unless it is necessary, the print function does not appear in our ebooks. Most of our ebooks are multimedia creations.
Take a look at the The Fables of Aesop and read his life story. Aesop, ancient Greek writer of fables: real or legend? No matter the answer to this question, the name of Aesop became attached to a collection of fables transmitted by the Greek and the Roman writers. Or the Chinese Fables, these two electronic books will let you discover classics of the world literature and will teach your children basic values.

Interested in foreign literature? Download Contes et Fabliaux du Moyen Age a French ebook about a typical French literature.

Your children are in love with Schnauzers, learn more about that breed.

Browse our catalog and discover this new medium to enjoy literature and to access information. Interactivity, web connection, non-linear reading are some of the features that distinguish ebooks from paper-bound books. Ebooks offer much more than the conventional books. Text is complemented with rich graphics, sound and much more. You can download evaluation versions of most of our ebooks as well as locked copies of the full versions that can be registered online. If you would like to know when new ebooks are released, join our free mailing list using this form:
Enjoy your visit and let us know what we can do to improve this site and make it a more rewarding experience.
What's new:
May 15th:
New Release: Dance Sisters by Alan Clay

April 24th:
Found on the Washington Post web site:
Other companies are driving the electronic book market. Among them: Fatbrain (www.fatbrain.com), a much-ballyhooed online store that sells books, training materials and print-on-demand documentation; netLibrary (www.netlibrary.com), a service that offers libraries, corporations and research facilities access to more than 13,000 e-books online; E-dition (www.e-dition.net), an online book publisher; and scores more. Still other firms are wrestling with copyright and security issues.
Found on : CNN.com
Aesop's Fables ranks 5th in the top 10 ebooks.
March 6th, 2000:
New Release: Lapses of Memory by A. Yurevich.
This new ebook explores the painful consequences of a childhood trauma buried deep in the misty regions of memory. But as in real life, good may come out of pain.